(Update 07/23/2019): In a new client update, Dropbox has brought back partial support for zfs, eCryptFS, xfs, and btrfs filesystems in Linux (64-bit only).
In case you've been living under a rock, Dropbox has dropped support for all Linux file systems except unencrypted ext4. Simply put, if you're running on nfs, btrfs or eCryptfs, you can kiss Dropbox goodbye.
Of course, there are more details to the problem that's been covered by other blogs and forums. Jack Wallen from Tech Republic has an interesting take on the issue which is well worth the read.
In summary, Dropbox has failed a large part of the Linux community and because of this, you may be asking yourself "where do I move my files?"
That's where Insync comes in.
---
Insync + Google Drive, the solution to Dropbox woes
Dropbox has been a go-to cloud storage provider for Linux users especially since the Linux version works great -- but to those looking to migrate, Insync is here!
Insync is a cross-platform (Windows, macOS and Linux) Google Drive syncing client that supports a wide range of distributions and file managers:
Ubuntu, Linux Mint, Debian, Fedora, OpenSUSE & CentOS
Nautilus, Caja, Dolphin, Nemo, Thunar
More importantly, Insync doesn't discriminate on file systems, we support them all.
I left @dropbox after they dropped support for encrypted drives on linux this week, but fortunately @insynchq was there to pick up the slack with google drive synchronisation. Love it so far - definitely recommend

— Tom Stafford (@tomstafford) November 9, 2018
---
Dropbox vs. Insync + Google Drive
Insync does require that you move from Dropbox to Google Drive. Here's a quick feature comparison: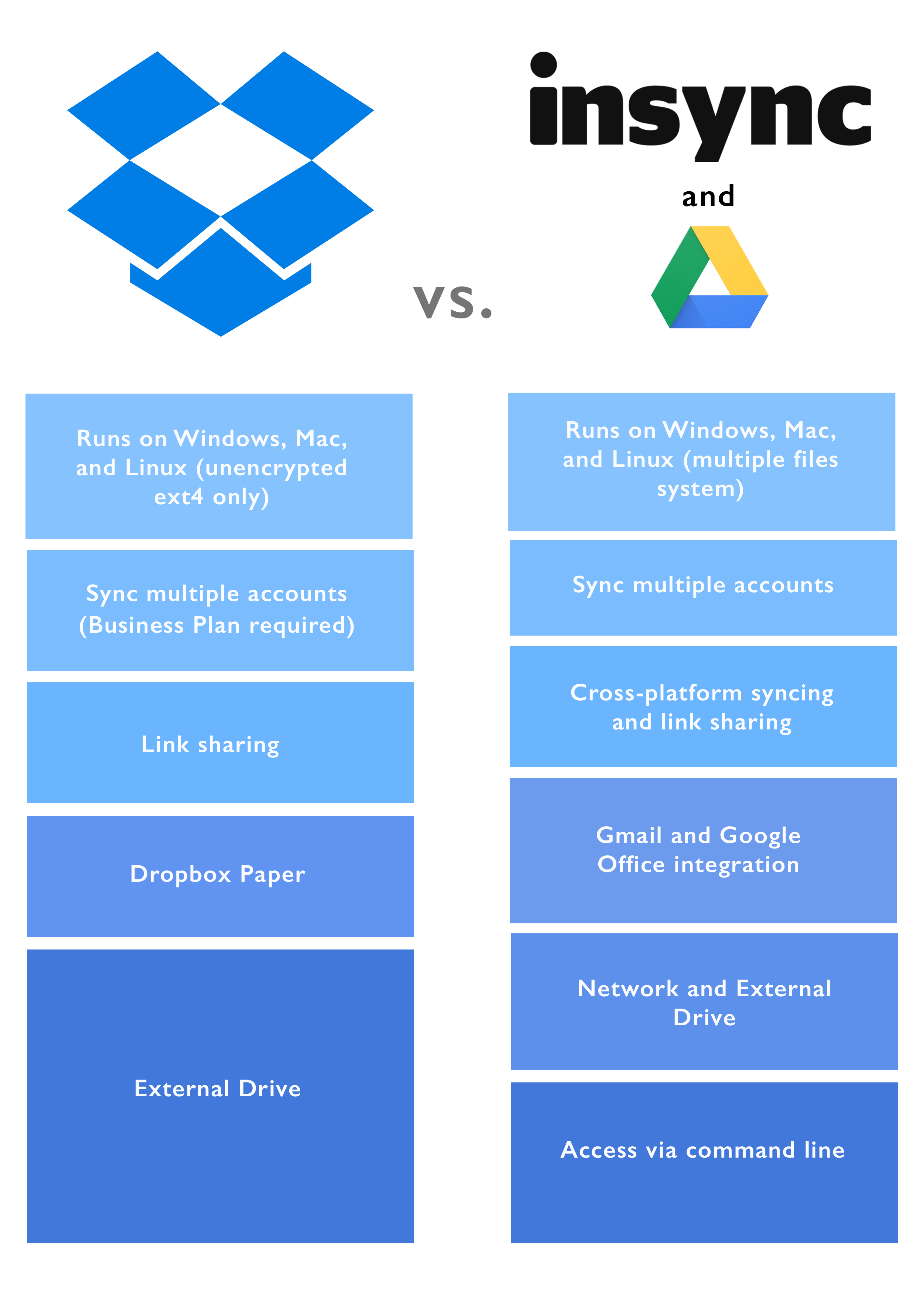 ---
The Cost
As with any product, there's the discussion of cost. You can refer to the table below for the pricing details, starting from the cheapest options.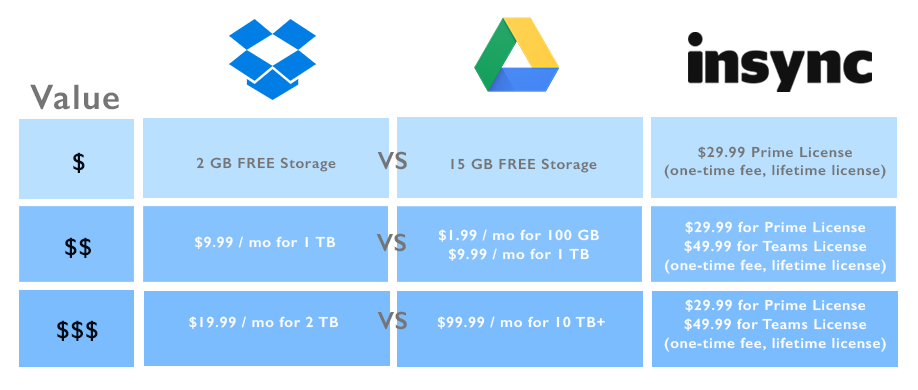 Google Drive has a cheaper entry point at $2/month for 100GB of storage vs. Dropbox's cheapest option of $10/month for 1TB. Coupled with Insync's one-time pricing for a lifetime license, Insync + Google Drive could come out as a more affordable setup for Linux users.
Migrating your files
If you decide to make the switch, just follow these steps to move your files from Dropbox to Google Drive using Insync:
Install Insync and connect to your Google Drive
Copy the files from your Dropbox folder
Paste the files to your Insync folder which syncs to your Google Drive
Go get yourself a Mai Tai
I had been a loyal @Dropbox customer for many years. But the way they have handled this latest change for Linux users leaves me no choice but to leave them for @insynchq. Read the full story here: https://t.co/ROnTn3TrE3

— Fish Percolator (@fishpercolator) November 8, 2018
And migrating your files from Dropbox to Google Drive is that easy, folks! All you need to do to get started is click the button below. 😉